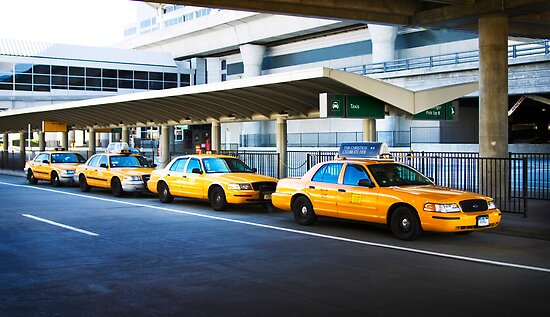 Picture by RedBubble.com
DA: 16 Kennedy Airport taxi dispatchers arrested in bribery scheme
from Newsday.com
Sixteen taxi dispatchers have been arrested and charged in a bribery scheme in which they solicited kickbacks from cab drivers who were then allowed to cut lines at Kennedy Airport, bypassing long waits for fares, authorities said Wednesday.
The arrests were announced by Queens District Attorney Richard A. Brown and Port Authority Inspector General Robert E. Van Etten, who said the dispatchers were all employed by subcontractor Gateway Group One Frontline Services.
The scam allegedly allowed drivers to "cut the line" -- moving them ahead of honest drivers, who were forced to wait in holding lots where they were queued for passenger pickups -- by paying dispatchers bribes of a few dollars, Brown said in a statement Wednesday.
With thousands of cabs servicing airport terminals on a daily basis, dispatchers raked in hundreds of dollars each during an eight-hour shift, Brown said. It also allowed drivers paying bribes to make many additional trips during a shift, authorities said. Authorities said the scam was in effect from December 2012 until February.
Van Etten said that Gateway and the Taxi and Limousine Commission cooperated with the criminal investigation.
In a statement released Wednesday, Gateway Group One said:
>>> Read More