Where to eat in Rome – by the city's cabbies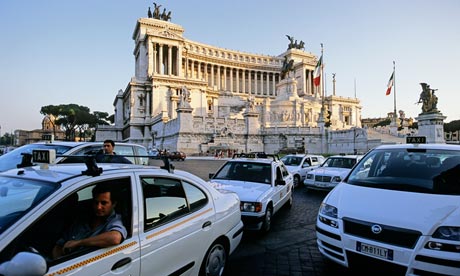 In her popular blog, Layne Mosler seeks out good, cheap eateries recommended by the city's taxi drivers. But how would she get on with Rome's notorious cabbies?
"Are you coming to Rome for a holiday?" the snowy-haired Italian sitting next to me on the plane asked.
"Actually, no," I said. "I'm coming to write about taxi drivers. And their favourite places to eat."
The man, an engineer and hobby archaeologist who was born and raised in Rome, slapped his hand to his forehead. "Our taxi drivers," he shook his head, "are terribili!"
He was not the first person to warn me about taxi drivers in Rome. Year after year, they are voted among the worst in the world. According to a 2011 EuroTest report by 22 European automobile clubs, "Rome's taxi drivers are aggressive, do not respect speed limits and traffic lights, and take long detours off the requested route."
In other words, if there was any city where taxi drivers were going to take me for a ride, it was Rome. But however naive it might have sounded to the Roman I met on the plane, I believed that some of the capital's 8,000 tassisti would show me where to find good things to eat in their city.
I based this belief on a steak. Five years ago I decided to climb into a random cab in Buenos Aires and ask the driver to take me to his favourite restaurant. After the taxista delivered me to a transcendent bife de lomo at a side-street steakhouse called Parrilla Peña, I started hopping into cabs in Buenos Aires, Berlin and New York, asking drivers where to eat and documenting my discoveries on a blog called taxigourmet.com.
In New York, I met two female cab drivers who showed me the way to Jamaican curried goat and Puerto Rican mofongo – and convinced me that I could drive a yellow taxi, too, which I did, for a year, chauffeuring everyone from hysterical brides to ex-New Yorkers searching for pastrami.
No one, my colleagues taught me, knows a city better than a cabbie. And four trips to Italy had taught me that few people know food better than Italians. What would happen if I tested these two truths in Rome – a city with some of the greatest food, and some of the most notorious taxi drivers, in the world?
"Buona sera," I said to the tassista who was parked, along with six of his colleagues, next to the Esso station on Piazza Albania. He winced at my accent and started rolling a cigarette.
"I'm looking for a cheap restaurant not too far from here," I continued.
"I never eat at restaurants around here," he said.................